Zelle and PayPal Tips for Swappers
Mike D & Sandi Yu · August 31, 2018
New to the E-wallets? Or having been using them for a while and paying quite a few transaction fees? These are the tips from our Swapsy Experts on how to utilise Zelle and Paypal while avoiding fees!
Zelle tips
According to our Swapsy insider source, Zelle is the more popular E-wallet for the USD currency. So, if you include Zelle when raising a request, the chance of getting a match, and the waiting time before a match will both be improved.
So what is Zelle? Zelle is partnered with almost every major bank in the US. And, even better, Zelle is embedded with most banks' online account and app. For example, if you have Chase QuickPay installed on your mobile, you can find "QuickPay with Zelle" in your menu, and start sending and receiving fund via Zelle right away.
To include Zelle as E-wallet on Swapsy, you only need to provide your account name (could be a nickname you set on Zelle), email address or phone number linked to your Zelle. No personal banking information is required.
For Chase online banking, it is also quite easy to access, right under the "Pay & transfer" menu.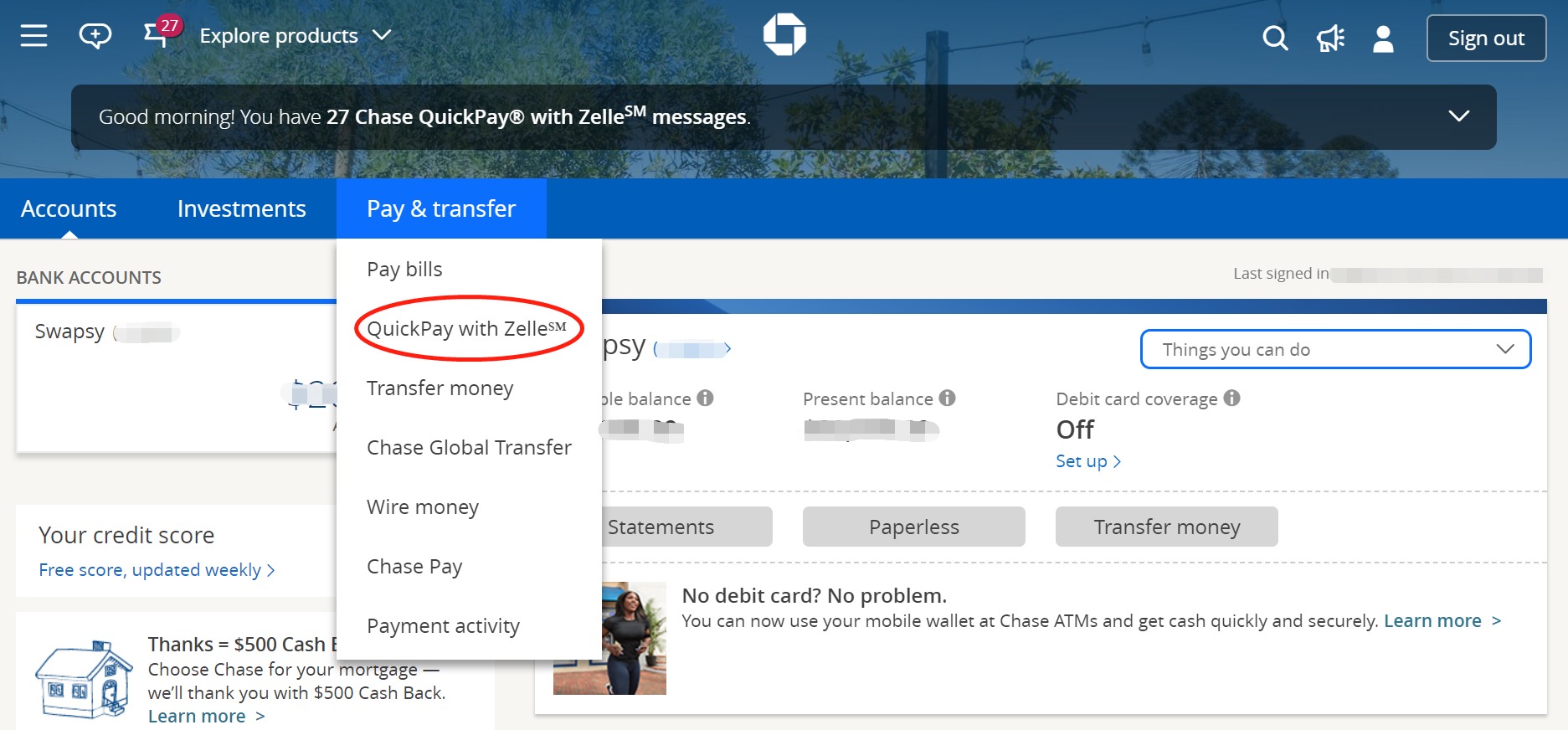 More examples of Zelle with some other major US banks.
(Wells Fargo)
(Bank of America)
The best thing about Zelle is that, it is free to have an account, to send and to receive money. And as it is partnered with so many banks in the US, funds are usually transferred within minutes among Zelle users.
Paypal tips
We have got feedbacks from quite a few Swappers saying that they have to pay a fee for each transaction on Paypal. Most likely this is because they have linked a debit card or credit card to their Paypal. To avoid paying this fee, instead of the cards, you could link your bank account, instead of a card. Be aware that bank account is NOT the number on your physical card.
As shown above, when you Link a bank account in Paypal, you need to fill in both the Routing Number and the Account Number, both of which can be found on your bank check, or online banking account. The account number is also shown in your monthly bank statement. After linking a bank account, you should see it similar to the one shown in the upper right hand side picture, the "JPMorgan Chase, Checking" one. The "Chase Visa Debit Card" shown there is not a bank account, and thus you will need to pay a fee per transaction on Paypal using that card.
Another important tip is that, when transferring fund to your match using Paypal, you should select "Friends and Family" instead of "Goods and Services". If you choose the latter one, you need to reimburse your match the fee incurred for the transfer.
To ensure that all Swappers have a pleasant experience on our website, we strongly recommend Paypal users either link the bank account or pay with Paypal balance, and avoid using eCheck when sending money to your match. We work hard to make sure that all swapping experiences are smooth and seamless. We appreciate your help to make the Swapsy community a better place for us all.
Try to swap like a real expert on Swapsy? Check this one out as well, How to Insert Transaction Code for a Request on Swapsy.