How to Exchange USD and CNY on Swapsy - A Walkthrough
S. Alexander · December 31, 2019
Exchange CNY to USD and USD to CNY is our mission. After minutes or even hours of searching for a better way to send money home from either China or the US, the internet has brought you here! Welcome to Swapsy!!  We are a FinTech currency exchange platform giving e-wallet users, in both China and the US, the ability to fulfill their monetary needs through matching and exchanging currency with other verified users of the platform without the intermediary banking hassles and fees. 
There are a few things to note, before we go over the steps for setting up an account and swapping money with other verified users. 
1. Swapsy is a true peer-to-peer (P2P) platform. This means: 
a. Users send money by themselves. 
b. The company DOES NOT hold money being sent by users across the platform. Which means all money sent and received will be inside of your chosen e-wallets. We DO NOT hold your money like other apps such as Venmo. Please check your e-wallets to make sure all money was sent and received. 
2. All users are VERIFIED.
3. We guarantee 100% of the transaction. 
With that being said, let's jump right into the steps it takes for Swapsy users to "start swapping"!!!
Step 1: Verify Your ID
Before the "swapping" process even begins, it is necessary that every user upload a photo I.D. along with a picture of themselves holding the exact I.D. previously uploaded.  
After this step is completed, you will need to wait until your uploaded photos are verified before moving on to the next step.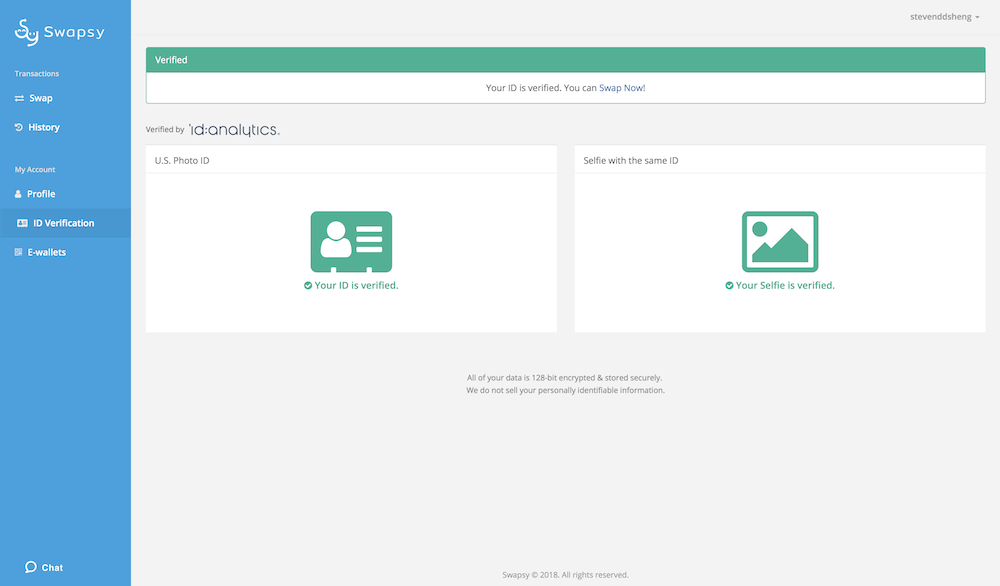 Once verified, both the "Photo ID" and the "Selfie with the same ID" box will be green. 
Step 2: Upload Your E-Wallets to Receive Money
At this current point in time, Swapsy supports the most popular e-wallets, including WeChat Pay, Zelle, PayPal, etc. You need at least one e-wallet to receive the currency you want to exchange for. Make sure to upload the correct information under the corresponding e-wallet so that you are able to receive the money from your matches in time. 
Now that IDs are verified and wallets are uploaded, you may start the swapping process. 
Step 3: Select Currency Type and Amount
To begin, select the currency you need, and key in the amount needed in that currency. After this step is completed, you will also need to select the e-wallets in which you would like your money to come from and be placed in.
For example, say you want to exchange USD 1,012 for CNY. After entering 1012 in the text box, you can either pick the $763 Swap via Zelle from the list on the left, or the $1,305 Swap via PayPal from the list on the right. They are the best matches recommended by Swapsy for the two e-wallets respectively.
Or, if you want to exchange exactly USD 1,012, you can create your own Swap by clicking either one of the buttons on the bottom, depending on the e-wallet you want to use to send the USD.
Step 4: Send Request and Wait for a Match (Skipped if Pick from List)
If you start your own Swap in Step 3, you will be waiting to be matched with another verified with similar currency needs. If at any time during the transaction you decide to cancel, you may do so by simply clicking on the "Cancel Swap" icon. 
Sometimes you may get a match after submitting your own Swap request. In that case, you will see the screen shot of Step 5, and need to action accordingly.
Step 5: Send Money to Your Match
If you pick a match from the list in Step 3, you get a match immediately, and land on this page to send money to the other verified user's account. You will have 1 hour to complete the transaction. Before clicking on the icon indicating you have sent the requested amount of money, you should include the given transaction code in a note so that your match is able to confirm the transaction.  You can also upload your transfer proof to accelerate the process.
If you start your own Swap and get a match later, you will have 18 hours to send the fund.
The last step in this entire process is just as seamless as the others. 
Step 6: Confirm Receival of Payment 
Now that you've sent your match's requested amount along with the transaction code, you should also confirm that you have received money from your match. To increase the matching efficiency and help you get the money faster, the funds sometimes will be split into multiple payments. You need to confirm each of them respectively. Once this step is taken, you will have fully completed your transaction and your e-wallet will contained the swapped currency!!!
See! Within six steps you are able to exchange money with other users in need without the lengthy banking process!
If you haven't decided to do so already, consider signing up for Swapsy, and if you find our platform to be useful, spread the word!! 
Click here for some advanced Zelle and PayPal Tips for Swappers.